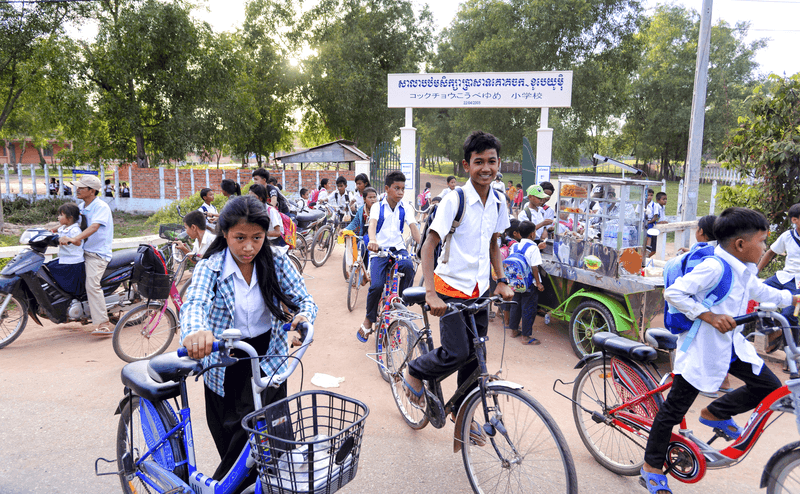 Teaching English in Cambodia – ESL 'pioneers' needed…
There's a substantial realignment happening at the present time in terms of preferred destinations for aspiring English as a second language (ESL) teachers. While interest in Japan, Korea and even Thailand seems to be waning, teaching English in Cambodia is becoming more than a faint blimp on the radar of both newbie ESL teachers and seasoned campaigners alike.
Last frontier for ESL teaching
Cambodia is arguably the 'last frontier' in Asia for ESL jobs and like every other 'frontier' the world has known, 'pioneers' are in high demand. If you fancy yourself as an ESL pioneer, if you're up for an adventure or perhaps you just want to make a positive difference in the lives of local people who have been doing it tough for generations, teaching English in Cambodia may well be your calling.
While students of all ages – young learners through to corporate high flyers – have been marching off to English language classes in Vietnam, Japan, Korea, China and in other Asian countries for the past couple of decades, it's a relatively new trend in Cambodia, becoming more popular by the day. Why, you may ask, especially given that studying English as a second language isn't 'sexy' like training to be a sports star or swiping pages on an IPad? From what I've witnessed first-hand over the past few years, the current generation of Cambodians see English language skills as a pathway to a better future. Moreover, the parents and grandparents of the current generation know how dangerous a lack of education can be. By any measure, Cambodians are resilient and they won't allow a tragic past to repeat itself, or dictate what the future holds.
Privately owned 'International' schools and English Language Centres are sprouting all over Phnom Penh and there are even a few up north in Siem Reap and down south in Sihanoukville. The Westline International School is one of the largest 'K1 through to K12' institutions in Cambodia with 16 campuses and well over 20,000 students. There are a number of other International Schools of similar size.
Huge demand for English teachers
With the demand for English language classes in Cambodia going through the roof, there's a corresponding demand for people with the qualifications and skills to take on jobs teaching English in Cambodia. Internationally recognised TESOL, TEFL or CELTA certification, such as the Australian Government accredited Certificate IV in TESOL, is the minimum academic qualification for teaching English in Cambodia. Those people who hold quality ESL certification and a university degree (in any discipline) are in strong demand. Rightly or wrongly, being a native English speaker is also looked upon favourably, but non-native English speakers shouldn't be deterred; there are plenty of jobs available.
It's fair to say the hourly rate of pay for teaching English in Cambodia is quite a bit less than what's on offer in neighbouring countries. Moreover, the hours that ESL teachers in Cambodia are required to work, tend to be more. Having said this, the salary at the end of the month and even more important, the savings capacity through teaching English in Cambodia (around 50%) is not dissimilar to what's on offer in neighbouring countries. By way of example, a native English speaker with a degree and TESOL will typically work 30+ hours a week teaching English in Cambodia and receive a net monthly salary of around US $1,300.00. In comparison, if the same person was teaching in Vietnam, he (or she) would typically work 20+ hours a week for a similar net salary.
One of the more obvious differences between teaching English in Cambodia and teaching in a neighbouring country like Vietnam is when most of the work hours occur. In Cambodia, English language classes mainly occur during the daytime, Monday to Friday and rarely in the evening or over the weekend. In contrast, English classes in Vietnam mostly take place in the evening, Monday to Friday and anytime over weekend.
Sure, the net monthly salary, hourly rates, savings capacity and suchlike that teaching English in Cambodia affords, are important considerations before diving in head first. I'd like to place another important consideration on the table – lifestyle! If I had to choose between: 1. living in an exotic country, working a handful of hours each week, saving money and getting ahead; or 2. the 9 to 5 grind in my home country while trying to make ends meet, the decision is very much a 'no brainer'.
Cambodia can be confronting
Those folks who turn their mind to teaching English in Cambodia need to be realistic about what's on offer, or perhaps more important, what's not on offer in a developing country. Basic infrastructure in Cambodia is either non-existent, 'patchy' or in both a literal and metaphorical sense, 'in the pipeline'. Vermin are commonplace, garbage is dumped in the street (later taken away – mostly), the climate tends to be hot, very hot, or very, very hot with an occasional downpour that leaves whole neighborhoods submerged and local people tend to be unorganised and work at a pretty slow pace. Food choices can also be confronting; barbequed 'creepy crawly' things are not my idea of snack food. There's an 'arachnid-looking' thing, a Cambodian delicacy, that bears a striking resemblance to the 'Daddy Long Legs' that lived in my old pop's outside loo when I was a kid.
The 'negatives' you'll surely see first-hand if it happens you embark on an odyssey teaching English in Cambodia are part of the reason I love the place. It is stunningly different to any country I've visited – and I've been to a few – and the 'unexpected' prevails. You will smile more often than you've ever smiled before. You might even break out in an audible chuckle when you see something like a local person transporting two full size fridges in a 'T formation' on the back of a motorbike. I saw it on my last trip and I certainly broke out in an audible chuckle. Most of all, you will be taken back by the overt hospitality and friendliness of the local people. Cambodian people have every reason to be a cranky lot, but they're right up there with the loveliest folks you will ever meet.
When it's all said and done
So, would I recommend teaching English in Cambodia? Yes I would, without hesitation. If I had my time over again, I'd start with teaching English in Cambodia. Just now there are plenty of terrific teaching jobs available in Cambodia for people with the right qualifications, but things are changing – see my earlier 'faint blimp' comment. There's an expat lifestyle on offer that will allow you to get ahead and save money. The 9 to 5 grind that's commonplace in the US, Canada, the UK, Australia, South Africa and in most other developed countries will be a thing of the past. Give it a go!
About the writer: Peter Goudge is the Managing Director (and owner) of Australian Vocational Skills and Education (AVSE-TESOL) in Hanoi, Ho Chi Minh City, Phnom Penh and Online. TESOL certification through Peter's company, AVSE-TESOL, is all about providing aspiring ESL educators with the skills, knowledge and quality certification they need for jobs teaching English in Cambodia, Vietnam and elsewhere. Check out the AVSE-website: www.avse.edu.vn
How To Get Started Teaching English In Cambodia
If you are considering teaching English in Cambodia, it is advisable to research and explore all the available opportunities open to you. It can be an enriching experience, and there are many great things about choosing this career path.
For a start, you could live comfortably on a teacher's salary due to Cambodia's low cost of living. An average apartment will cost you around $300 per month, plus the food is delicious and is also very affordable! Cambodian people are known for being friendly and welcoming. You won't feel like a fish out of water because you will quickly adapt and be surrounded by a bunch of new friends, locals and foreigners. You will be greeted with smiles and warm welcomes wherever you go. Cambodian culture places a high value on hospitality. Cambodians believe it is important to welcome guests into their homes and make them feel comfortable. There are many more benefits of teaching English in Cambodia, such as:
– Making a positive difference in the lives of local people by sharing your teaching and English language skills. Cambodians see proficiency in English as the key to educational and professional opportunities.
– Cambodia is a fascinating country with a rich history and culture. You will have the opportunity to experience the best of what Cambodia has to offer, first-hand.
– Living and working in Cambodia, where life can be tough on occasions (poor infrastructure, harsh climate, abject poverty and the like) will surely contribute to making you a competent, well-rounded person – and a better teacher.
What are your options?
The requirements for teaching English in Cambodia are relatively straightforward if you choose the right path. Basically, there are two options open to you:
Option 1: Safe and secure with zero worries via a programme with AVSE-TESOL – in Cambodia. Here's two snippets of information on how AVSE-TESOL can give you a helping-hand:
– AVSE's Australian Government accredited, 4-week, in-class TESOL programme in Phnom Penh, Cambodia – for those without government-regulated TESOL, TEFL or CELTA certification.
– AVSE's Teaching Jobs Abroad programme for those who already hold government-regulated TESOL, TEFL or CELTA certification.
Option 2: Throw caution to the wind and do it all yourself. Even if you're a seasoned traveller, Cambodia is one of those countries where things can go wrong pretty quickly. The 'Throw caution to the wind and do it all yourself' option with teaching English in Cambodia comes with risk factors that you'll need to carefully consider. Here are three obvious risks:
Risk one: The visa requirements for Cambodia can be hard to navigate. It's imperative that you get the right visa to enter Cambodia in the first place – and visa coverage to teach in Cambodia for the medium to long term if that's what you plan to do. To secure the all-important Ordinary Visa E Class online before you arrive in Cambodia, requires supporting documentation – a letter from a Cambodian company, a hotel reservation and more. Can you gather the necessary support documents from Cambodian entities by 'doing it all yourself'? Are you comfortable transitioning to a Work Permit 'under your own steam'.
Risk two: Knowing where the best teaching jobs are at a given time in Cambodia, schools to avoid, clauses to include in an employment agreement (for example, who will pay for the Work Permit), market rates of pay, conditions of employment and the like, can all be tricky if you're a newcomer to Cambodia. Are you up to speed with the direct connection between a Work Permit in Cambodia and being allowed to open a local bank account? Are you fine with signing on the dotted line without fully understanding the implications?
Risk three: Once you've navigated the visa and job hurdles, finding affordable accommodation close to where you'll be working will be the next challenge. While there are decent Real Estate Agents in Cambodia, seemingly like elsewhere in the world, there are many more who are dodgy. As a newcomer to Cambodia, will you know who is dodgy and who's not, suburbs (Districts) to avoid, what about connecting water, electricity and the internet to your dream apartment, how much rent should you pay – and the list goes on?
What's my advice?
All of these challenges can be daunting, so my advice is to follow the civilised, safe and secure pathway offered by AVSE-TESOL. I did and it worked a treat for me. It makes sense to launch your teaching abroad experience in Cambodia with all-encompassing support from a professional team – AVSE-TESOL – who are on the ground in Cambodia – and have provided a helping hand to people like you and I for more than a decade. AVSE-TESOL takes on all the usual headaches connected with teaching abroad, right visa, accommodation, valid teaching credentials and suchlike, allowing you to focus on settling into your new surroundings. AVSE-TESOL is a Registered Training Organisation (RTO) based in Australia. They offer Australian Government accredited ESL teacher training programmes – and job placement – in Cambodia (and Vietnam).
If you don't already hold government-regulated TESOL, TEFL or CELTA certification (a core requirement for a teaching related Work Permit in Cambodia), AVSE's 4-week, in-class TESOL programme in Phnom Penh is a brilliant springboard for teaching in Cambodia. If you already hold government-regulated TESOL, TEFL or CELTA, I'd encourage you to check out AVSE's Teaching Jobs Abroad Programme. For a budget price, your transition to teaching English in Cambodia will be smooth sailing. You can learn more about the Teaching Jobs Abroad Programme via the following link: https://rb.gy/34xuo
Why do a programme with AVSE-TESOL?
With AVSE-TESOL in your corner, you'll be teaching English in Cambodia quicker than you think. The in-class TESOL programme at AVSE-TESOL in Cambodia is Australian Government accredited. There's no other government-regulated TESOL programme in Cambodia. Government-regulated means validity and quality.
AVSE-TESOL has a vast network of partner schools the length and breadth of Cambodia. You can realistically expect to be in a brilliant ESL teaching job within days of completing a teacher training programme at AVSE-TESOL. From the start of your teaching abroad journey through to the day you're ready to move onto a different challenge, AVSE-TESOL will by your side in Cambodia. They'll make sure you've got the right visa coverage, somewhere to live, valid teaching credentials, a helping-hand when it's needed and a lot more.
Conclusion
This blog post is based on my first-hand experience organising a teaching English abroad adventure in Cambodia. It became clear to me early on in the planning phase that there are two ways to pull my trip together: 1. reach out to AVSE-TESOL in Phnom Penh because they offered everything that I needed in one place – the right visa, accommodation, a social network and a decent job, or 2. do it all myself – from a distance – and take on unwanted risk factors. The decision was pretty easy to make. Take a deep breath, weigh up your options and I'm sure you'll make a decision that's good for you. You'll love teaching English in Cambodia. I certainly did.
About the writer: Mandy Schuster did the Teaching Jobs Programme at AVSE-TESOL in Phnom Penh, Cambodia in June 2022. She recently returned home to Munich, Germany to start a Master's Degree in in TESOL after teaching in Cambodia for just under one year.
Pros & Cons Of Teaching English In Cambodia
If you're weighing up the pros and cons of teaching English in Cambodia, you can be comforted in the knowledge that plenty of other people, including me, have gone through the same process. So, despite the 'Worry Wart' ribbing from your mates, turning your mind to whether a specific ESL teaching destination will be a good fit for you is the smart thing to do. Among other things, it's akin to a preemptive strike on culture shock.
In this short blog post, I'll highlight three 'pros' of teaching English in Cambodia and, to 'balance the ledger', three 'cons'. Of course, we know there are many more than three pros and three cons, but I need to draw a line somewhere – akin to a preemptive strike on reader boredom.
Pros
Here are my three 'pros' of teaching English in Cambodia.
1. Jobs: Advertisements in social media, feedback from ESL teachers on the ground and the sheer number of requests for new teachers that my business, AVSE-TESOL, receives from schools across Cambodia collectively point to a massive shortage of qualified foreign English teachers. In a nutshell, there are more ESL teaching jobs on offer in Cambodia than there are TESOL/TEFL qualified people to fill them. This is good news – an obvious 'pro' – for anyone who has Cambodia on their 'teaching jobs abroad' radar. Degree or no degree, quality, government-regulated TESOL certification is essential – check out the Australian Government-accredited TESOL programme in Phnom Penh at AVSE-TESOL.
2. Lifestyle: The lifestyle you lead in your home country is almost certainly driven by your work hours (including time spent commuting), your financial circumstances and the weather. Sure, other factors influence a person's lifestyle, for example, geographic location, hobbies, and socialising, but work, finances and the weather are the big three. Sensible work hours, high income (relative to the cost of living) and a tropical climate – 'the big three' – that come with teaching English in Cambodia afford a lifestyle that most people can only dream about. The 60-minute commute to work on the London Underground will be a thing of the past. Forget about paying AUD $12.00 for a beer in Sydney. Building sandcastles in Sihanoukville while walking around in a bathing suit will replace building snowmen in New York, dressed in a woollen beanie, earmuffs, gloves, and thermals.
3. Relaxed visa rules: Rules and regulations related to obtaining a visa to enter Cambodia and staying there for an extended period are arguably more relaxed than in other ESL teaching destinations in Southeast Asia and elsewhere. In Cambodia, with minimum paperwork and fuss, it's possible to obtain a twelve-month visa (multiple entries) and a related twelve-month Work Permit sponsored by an employer (a school in our line of work) or as a 'self-employed' person. Interestingly, you don't need a company structure in Cambodia to be eligible for a twelve-month work permit and visa because you're self-employed. A twelve-month Work Permit, sponsored or self-employed, costs in the vicinity of US $330.00. The cost of a visa is around US $200.00.
Cons
Here are my three 'cons' of teaching English in Cambodia.
1. Poor infrastructure: You can't skirt around it; Cambodia has a war-torn past and ongoing governance issues. History tells us the local people are the first to bear the brunt of war, poor governance, or both, closely followed by the nation's infrastructure. Basic infrastructure in Cambodia is either second-rate, dilapidated, or non-existent. Accessing the internet will frustrate you no end. Finding the health care you need if you get ill, will be challenging, especially if you don't have medical insurance. Not all schools have air-conditioning, whiteboards, projectors and the like that teachers take for granted in more developed countries.

Here's a quick task for you: think about how you will manage: a) the problematic internet, b) finding health care if it's needed, and c) delivering ESL classes without basic resources. Whining is one option. I think there are more productive things that you can do to minimise the inconvenience.
2. Abject poverty: Witnessing abject poverty (and its consequences) is confronting. As an ESL teacher in Cambodia, you will have abject poverty in your face daily. In Phnom Penh, beggars and street kids of all ages are seemingly on every corner. You'll see whole families, mum, dad, and kids living rough on the pavement. The garbage from businesses and households that's left to rot on the street is a magnet for vermin. With abject poverty comes the need to make ends meet by whatever means, and in Cambodia, many people do precisely that. Almost certainly, you'll be shocked. How will you respond?
3. Variety: I heard a young ESL teacher describe his time teaching in Cambodia as 'too vanilla' for his liking. Then and there, I didn't have a clue what he was talking about, which provides an insight into my age and social circle. Thanks to a Google search, I now understand that he meant 'conventional', 'same-same', and lacking variety. I can see why some folks teaching English in Cambodia might think that way. There's not a huge difference between schools 'A, B, C and D' in Phnom Penh on a number of fronts, including their target customers, the curriculum, pay scales, architecture and suchlike. Anecdotally, 90%+ of the teaching work in Cambodia is with young learners, 4 to 17 years of age, who attend Private Schools. Company classes are scarce. Occasionally a teaching position at a university or college will pop up, but you could go weeks without seeing a job advertised at this level.
Summary
There is an upside and a downside to every aspect of life if you were inclined to look, and teaching English in Cambodia is no different. It comes with pros and cons. The number of available jobs, the lifestyle and the relaxed visa rules are good reasons for ESL teachers, newcomers, and seasoned campaigners to make their way to Cambodia. Equally, the poor infrastructure, abject poverty and the 'same-same' nature of the teaching work in Cambodia are all reasons why ESL teachers may choose a different destination. It comes to personal choice, and in my opinion, the pros far outweigh the cons – and in the main, the cons can be easily managed with a bit of forethought.
About the writer: Peter Goudge is the Managing Director and owner of AVSE-TESOL in Cambodia and Vietnam. AVSE-TESOL delivers an Australian Government accredited TESOL programme in Phnom Penh, Hanoi, and Ho Chi Minh City. Check out the AVSE-TESOL website: www.avse.ed.vn
5 Brilliant Schools for Teaching English in Cambodia
The world of English-language teaching opens many doors, and offers a huge range of opportunities, all of them exciting! English language teachers with government-regulated TESOL, TEFL or CELTA certification are in high demand in Southeast Asia, especially in Cambodia. If you crave adventure and a quintessential expat lifestyle, you'll find both – and a lot more – teaching English in Cambodia.

Why Consider Teaching English in Cambodia?
Almost certainly Cambodia doesn't immediately come to mind when you think of as an ideal destination for teaching English abroad! Cambodia has a history of turbulence to say the least, but times have changed for the better. In 2021, 'Rough Guides' published a customer survey that had Cambodia recorded as the friendliest country in the world. While there are plenty of people from other countries, including my native Australia, who'd argue that their country is friendlier than Cambodia, I'm not at all surprised by the survey results. Cambodia has a lot to offer. In addition to friendly people, you'll find plenty of great ESL teaching jobs, decent pay relative to the cost of living, a tropical climate, things to see and do in abundance – and more.
High Demand for English
Cambodia's economy is booming largely on the back of commodity exports and tourism. As English is the global language for both, there is increasing demand for employees in these sectors – and the wider community – to have a high level of English literacy.
To meet this requirement, the Cambodian Government has ramped up its investment in education across the board and in teaching English in particular. During my time in Cambodia, the number of public and private entities that teach English as a second language (ESL) quadrupled. Most of those entities employed or wanted to employ foreign teachers.
My top 5 brilliant schools are…
Whilst there are many excellent schools throughout Cambodia – true, there are duds also – that employ ESL teachers, there are five schools that stand out for the quality of their English language programme and the way they look after their teachers. Not in any particular order, here are my top five schools:
– Western International School
– New Gateway International School
Although there are plenty of factors to consider when choosing the right school for teaching English in Cambodia, at the end of the day most teachers want to:
– Be paid at the market rate for a foreign ESL teacher
– Work sensible hours
– Feel welcome and safe in the workplace
– Have security of tenure
– Know that their employer will 'bat' for then when the need arises
– Take advantage of opportunities for professional and personal development
In my opinion, a brilliant school will deliver on all of the six points that are noted above – and then some. The ELT Institute, Western International School, Westline Education Group, Home of English and the New Gateway International School tick all the boxes. Let's drill down on those six points.
Paid at the Market Rate for a Foreign ESL teacher
Well-qualified English language teachers like you (government-regulated TESOL, TEFL or CELTA certification) are valuable assets. You bring important knowledge and skills to the 'table' and a good school will recognise this and pay you accordingly. My first rule is to look for schools that will pay you the going market rate, or more, to work as an ESL teacher. You've invested time and money to acquire the knowledge, skills and government-regulated certification to work as a foreign English teacher in Cambodia and this should be reflected in your salary.
It's important to note that your net (monthly) salary from teaching English in Cambodia will almost certainly be markedly lower than what's achievable in your home country. Don't be disillusioned. Your net salary is only half of the equation. It needs to be balanced against the cost of living in Cambodia. For example, let's say that receive a net salary of US $1,250.00 a month from your school. This amount of money wouldn't even cover the cost of a smallish apartment on the outskirts of Sydney or Melbourne. In contrast, you should be able to save 50% +/- of your salary after meeting all expenses in Cambodia – without cutting corners. Frankly, I don't know anyone in Sydney or Melbourne who's saving US $625.00 +/- a month. When the low cost of living in Cambodia is factored into the equation, many teachers tell me they're able to save a lot of money teaching English in Cambodia without 'cutting corners'. Certainly that was my experience.
Work Sensible Hours
The full-time workload for a person who's teaching English in Cambodia is around 25 classroom hours a week. Anymore than 25 hours a week will almost certainly impact in a negative sense on the teaching and learning that takes place. While 25 hours a week in class might not seem like a full-time workload, when you add 'unpaid' preparation work on top of your classroom hours, the time commitment will be in the vicinity of an average work week for most people. True, unpaid hours are painful, but they come with the job and have done so since time immemorial.
Welcome and safe in the workplace
Moving to a foreign country is 'scary' enough without worrying about your personal wellbeing and safety while teaching English in Cambodia. It's imperative that your employer prioritises the wellbeing and safety of staff, students and the wider school community, but how will you know if this is the case? How will you know if inclusivity and diversity is important to a potential employer? Here are a few things you can do to gain an insight:
– Check the school's website and social media pages for relevant policies
– Do a simple google search using the name of the school as the key phrase and see what comes up
– Look for online reviews about the school from former and current staff and students
– Check the school's safety and compliance record with the Cambodian Ministry of Education (or similar)
– Ask questions in relevant Facebook Groups
– Ask direct (but polite) questions during the interview process
– Go with your 'gut' feeling
Security of Tenure
Security of tenure in the context of teaching English in Cambodia mostly comes in the form of a 12-month (renewable) employment-related contract that's signed by a school and a teacher. Without an employment contract in Cambodia that clearly specifies wages, conditions, leave entitlements, Work Permit support, long-term visa arrangements and the like, there's a high chance that you'll find yourself in dispute with your employer. It's imperative to get the employment contract right from the outset. Among other things, it will allow you to focus on your teaching, plan your finances and feel valued. True, an employment contract in a country like Cambodia does not carry the same weight as an employment contract in Australia and other developed countries. At a minimum, it will provide something to point to in the event a dispute arises. Having a point of reference is preferable to having nothing.
Know That Your Employer Will 'Bat' For You
Working abroad comes with red tape, and when you're also dealing with language barriers, sorting through the process of locking into an accommodation arrangement, opening a bank account, getting a long-term visa and related Work Permit – and the list goes on – can be tough. The last thing you want is to inadvertently violate the rules or be refused permission to work because you've overlooked a crucial document or a step in the process. It's not unreasonable to expect your school to lend a helping-hand.
If schools want to attract good teachers (and most of them do), they will have systems in place to streamline and expedite bureaucratic processes like those mentioned above. It's clearly in your employer's best interest to ensure you are 100% legal, comfortable and relaxed. Even so, before signing an employment contract, it's best to do your own due diligence on the level of support you'll receive from a potential employer when the need arises.
Opportunities for Professional and Personal Development
Professional and personal development opportunities are typically high on the list of reasons why people choose to teach English abroad. Therefore, it makes perfect sense to check if a potential employer is supportive of upskilling, empowerment, career pathways and suchlike. Do they offer, or encourage you to attend professional development and in-house training courses, workshops, and conferences? Do they provide peer mentoring, and travel opportunities so you can learn more about Cambodian culture and other pedagogies?
Final Thoughts
Teaching English in Cambodia offers rewarding opportunities both professionally and personally. The people are friendly, there are plenty of teaching jobs and from my personal observations schools go to great lengths to attract and keep decent ESL teachers.
In this article I have named five schools in Cambodia that I personally think are top notch and well-worth considering when you're looking for an ESL teaching job – the ELT Institute, Western International School, Westline Education Group, Home of English and the New Gateway International School. How did these schools make it to my list of the top five schools in Cambodia? Simple. They tick all the important boxes – market rate of pay or higher, sensible work hours, a welcoming and safe work environment, security of tenure, they bat for their staff when it's needed and they appreciate the importance of professional and personal development.
Ultimately, you will make up your own mind about which school in Cambodia is the best fit for you. With a thorough due diligence process, you'll be absolutely fine.
About the writer: Rob Mackay completed the Australian Government accredited in-class TESOL programme at AVSE-TESOL in Phnom Penh, Cambodia, in 2022. After teaching English in Cambodia for 14 months, he accepted a senior ESL Teacher position in South Korea. Rob hopes to move into a TESOL (teacher) Training position at AVSE-TESOL within the next four or so years. Watch this space.
Teaching English in Cambodia – professional conduct matters
Perspective
Foreign English teachers in Cambodia are highly respected and with this esteem comes many responsibilities. As a role model, you should endeavour to display a professional demeanour, use appropriate language and portray a positive attitude in all your dealings and interactions with students, parents, the broader community, colleagues, staff and administrators. Demonstrating professionalism during your time teaching English in Cambodia doesn't begin and end with assisting students to learn or following school policies and procedures. Please remember that you are also a representative of your school, country of origin, and, more broadly, the ESL teaching profession.
Teaching in Cambodia is important work. It deserves your complete care and attention. It's noteworthy that AVSE-TESOL in Phnom Penh include 'professional conduct' as a stand-alone unit in their four-week, Australian Government accredited TESOL programme. In stark contrast, other TESOL providers in Cambodia don't touch the subject.
Serious problems can arise if you behave 'inappropriately' in a country like Cambodia; actions have consequences. At the very least, unprofessional behaviour could lead to a reprimand by your school, dismissal, and in extreme cases, deportation or time in jail. As a professional, you should always be aware of the standards required. Discharge these in a manner befitting the profession and ensure you do not breach the trust afforded to you.
In many ways, professional conduct while teaching English in Cambodia is simple, common sense. You should aspire to retain the respect of your students and colleagues, provide your students with the best education possible and demonstrate professionalism in all aspects of your career. Folks who are professionally-minded operate within a schema of accountabilities and responsibilities; there are certain lines that should not be crossed. True, the lines might be blurry on occasions and subject to change without notice; such is life in a developing country like Cambodia.
Professional conduct tips
From my own experience teaching in Cambodia, here are 16 professional conduct tips, that I'd encourage you to reflect upon and, if you share my view of the world, act upon.
1. Teacher-student relationship
Honour the sanctity of the 'teacher–student' relationship. First, the teacher should endeavour to forge a relationship with students built on a foundation of respect, empathy and the preservation of individual dignity. This can be achieved by setting a good example and deploying a genuineness that would never make students feel embarrassed, stupid or ashamed, especially if they are brave enough to speak up. The second facet of this standard hinges on respecting personal boundaries. As a teacher, you hold a position of trust. These trust levels are further heightened when you are working with younger students. Never behave in a manner that's unbecoming of your position by making students feel emotionally or physically uncomfortable.
2. Safe and secure environment
Create a safe and secure environment for learning. Teachers should use all of their skills and knowledge to ensure that classroom conflicts are kept to a minimum, that students feel safe coming to class and that bullying or student harassment issues are dealt with immediately. In the very rare situation where there is a real threat to individual or group safety, you should be mindful of your duty of care responsibilities that come with teaching English in Cambodia and discharge these accordingly.
3. Student expression
Promote and encourage student expression, even in circumstances where your beliefs or views may be in direct conflict with those of your students. If you disagree with a student, it's not appropriate to belittle them or make them feel vulnerable. Lead by example. Require all in the classroom to show tolerance of other people's rights and beliefs, no matter their source or origin. It's also essential to make sure that your teaching doesn't intentionally or accidentally encourage students to break the law or behave in a manner that might be confrontational or physically aggressive. Instead, create a space that offers a safe forum for discussion, where everyone's views are respected.
4. School rules
Be aware of school rules when teaching English in Cambodia. Professionally-minded teachers understand that following the rules, policies, and protocols serves as a foundation for productive learning. Furthermore, by understanding the 'rules' of the school, the teacher is better equipped to ensure the integrity of the age-old, 'teacher–student' relationship is maintained. There are a few basic rules that ESL teachers should always follow: be punctual and well prepared, dress professionally, avoid using foul language, never lose your temper or become aggressive, be courteous and friendly and do not engage in gossip, arguments, and other inappropriate behaviour.
5. Money
Never give or take money from your students while teaching English in Cambodia – or anywhere else. What might seem like a harmless transaction can easily be misconstrued or, worse, place you in a situation of criminality.
6. Lesson planning
Ensure every lesson you ever take is thoroughly planned. If you stop preparing for your classes or, at a minimum, adjust lessons plans that you have previously taught, it is probably time to look for a new career. If you're unsure how to respond to a question from a student, it's best to say nothing and then find out the answer later. If you should give a wrong answer, you could potentially lose the respect of your students.
7. Set up classroom
Make sure your classroom is set up for a productive teaching and learning experience, well before the first student is due to arrive.
8. Friendships with students
Don't make friends with your students during your time teaching English in Cambodia. Yes, it is important to create a cordial atmosphere in the classroom to encourage learning and build trust, but do not blur the lines of the teacher-student relationship by extending this to friendship.
9. Treat equally
Treat all your students equally. The worst thing you can do as a teacher is to play favourites. Be universally welcoming and ensure that all students are treated equally.
10. Objectivity
Maintain objectivity. It's not acceptable to afford assessment or grading leniency to the students you may like, feel an affinity towards or who are simply better behaved in the classroom. You must remain objective and assess any work submitted on its merits.
11. Gifts
Avoid taking gifts from students. It is never a good idea to accept a gift from a student. Don't open the door to the perception that you are complicit in an inappropriate relationship. It's not worth the risk. If you're offered a gift, then just make it clear that all you expect in return from your students is good, old-fashioned hard work.
12. Personal beliefs
Don't enforce your beliefs. Teacher neutrality is imperative in the classroom. ESL teaching in Cambodia requires you to teach English, nothing more, nothing less. It doesn't require you to indoctrinate, inculcate or push your personal beliefs onto, or convert, your students.
13. Life story
Don't bore students with tales about your life. While it can be fun to use personal anecdotes to illustrate certain facets of the course, sharing your personal life should be kept to a minimum. Using individual students (or the whole class) as a personal confidant or therapist is simply 'not on'.
14. Additional duties
Teaching is a highly regarded occupation in Southeast Asia and other parts of the world. Westerners who teach abroad are sometimes taken aback by the reverence they receive from students and the wider school community. Foreign ESL teachers are often paid more than their local counterparts and earn significantly more than the average wage in the country where they're working.
It is not surprising that employers generally expect a high level of professionalism and commitment from foreigners teaching English in Cambodia, both in and out of the classroom. There is a wide range of duties and responsibilities that fall to ESL teachers beyond the classroom. Depending on your employer, some non-teaching duties will likely be expected without additional pay. For example, it is very rare for teachers to be paid for lesson preparation time. Some or all of the following may be part of your normal days' work:
Accurately recording results and attendance

Attending meetings, work functions and events

Participating in professional development

Planning and preparing all lessons

Writing student reports

Meeting with parents

Collaborating and seeking feedback from colleagues

Observing less experienced (or more experienced) teachers in the classroom

Conducting demonstration lessons

Cleaning and tidying classrooms and facilities

Participating in school open days
In addition, employers may have expectations about maintaining their school's image. For example, you may be required to adhere to a dress code, remove piercings, cover tattoos and so on. Your employer may also want to take pictures of you to be used in marketing activities.
15. Social media
From my observations teaching English in Cambodia, the local people are curious by nature. With this in mind, there's a high chance that 'all and sundry' in the school community will actively seek out your presence on social media platforms. Have you posted anything that might conflict with your role teaching in Cambodia? If so, delete it before you go to your first job interview.
Who can view your posts? Who can interact with you on social media? I'd encourage you to use all available privacy measures to prevent people in the school community from finding you on social media in the first place. If, by some chance, a member of the school community does find you on social media, you should have a backup plan so they can't engage with you. Under no circumstances should you add students (or their parents) as friends or contacts on your social media platforms. The reality is that we've all said and done things that we wish we hadn't, and often misadventure finds its way to social media. Deal with it before it becomes an issue for you.
16. Ongoing professional development
Teaching in Cambodia is one of those professions where keeping up to date with best practices, standards, guidelines, research and suchlike – commonly known as professional development – is paramount. If you know what's going on in your profession, it follows that there's a better chance that the way you conduct yourself – professional conduct – will be more aligned to what's expected than it might otherwise be. Understandably, when people hear the expression 'professional development', boring conventions, further study and stuffy networking events come to mind. Who has time (and money) for those things? Well, the great news is that it can be fun and easy to keep up with teaching English in Cambodia trends, to the extent that you won't even know that you're engaging in 'professional development.'
Your everyday social life is a professional development 'gold mine'. Just by chatting regularly with co-workers, setting up regular lunches or coffee meets with like-minded colleagues or staying in touch online, you will be able to share your experiences and knowledge on 'what's what' in the ESL world. It doesn't all have to be about work, of course, but doubtless, you will find these are great opportunities to share tips and ideas about teaching practices that have worked for you and to learn what has worked for others. Other fun and social techniques for keeping your knowledge on the cutting edge include joining groups on Facebook and, of course, staying in touch with classmates from your teacher training days.
Certainly, more formal opportunities for professional development exist and can add tremendous value to your teaching English in Cambodia journey. If you are lucky, you might find these opportunities being offered by your employer. If not, you may opt to invest some of your time and money to take part. ESL 'Associations', Organisations and the like, whether in your home country or abroad, often run courses and events with a professional development dimension. It's a matter of keeping an eye out for what's available.
Summary
Conducting yourself professionally is central to succeeding as an ESL educator, whether it's teaching English in Cambodia or another location. In the main, going about your business in a professional manner requires nothing more than common sense. Choosing not to lend or accept money from students, treating all students equally and maintaining objectivity are three examples of professional conduct '101' while teaching in Cambodia. Be mindful that your social media platforms will attract attention if you allow it to happen. Interacting with students and parents via social media is a 'no go zone' in my view based on a simple 'risk versus benefit' analysis. Lastly, don't underestimate the connection between professional conduct and professional development. They're intertwined.
About the blogger: Peter Goudge is the Managing Director (and founder) of AVSE-TESOL in Cambodia (Phnom Penh) and Vietnam (Hanoi and Ho Chi Minh City). Peter and the team at AVSE-TESOL in Phnom Penh have been helping aspiring educators to land that all-important first job, teaching in Cambodia or Vietnam, for more than a decade. Check out the AVSE-TESOL website: www.avse.edu.vn
Teaching in Cambodia – reduce your carbon footprint…
Despite the science, it seems to me that many world leaders don't care about climate change, don't understand it, or both. While we wait for genuine leadership on climate change, those of us who are teaching English in Cambodia, like so many others, can choose to sit on our hands or proactively seek out opportunities to reduce our carbon footprint. I've made a conscious decision not to sit on my hands and I'm calling on the entire teaching fraternity in Cambodia to take tangible action – starting immediately – to reduce carbon emissions.
The reality is that teaching English in Cambodia affords an array of opportunities to reduce carbon emissions. At this point, I am focused on reducing my usage of plastic, paper and fossil fuel (chiefly petroleum). When I've managed to 'put a dent' in my bad plastic, paper and fossil fuel habits, I'll identify other areas where I can reduce my carbon footprint through my work as an English as a Second Language (ESL) teacher.
Let's look at environmental issues relating to plastic, paper and fossil fuels from the perspective of teaching English in Cambodia.
Plastic
It only takes a day or two in Phnom Penh to realise that local people have a love affair with plastic. Visit any Khmer shop and there's a distinct possibility that you'll exit with more plastic bags than the number of items you've purchased. Newspaper reports suggest that Phnom Penh generates 600 tons of plastic waste daily including the infamous plastic bag and PET bottles (and containers). "What is a PET bottle", I hear you ask? It's a bottle made of polyethylene terephthalate, which is a form of plastic. If you buy water or a sports drink at a local store or a supermarket, almost certainly the bottle will be made of polyethylene terephthalate.
The United Nations estimates that 91% of Cambodia's plastic waste ends up in landfill, waterways and other places where it's not meant to be. Anything that's collected for recycling is shipped overseas, with local people receiving a pittance.
These days, I take my own 'fabric' bag when I go shopping in Phnom Penh. It's true that I get strange looks when I knock back plastic bags to cart away things that I bought, but that's ok. I live in the hope that one day I will see another person in a store knocking back plastic bags and handing the shop assistant a fabric bag. Perhaps I'm naive, but I do believe it will happen.
Foreigners who are teaching English in Cambodia love PET bottles almost as much as Cambodians love plastic bags. If you're a foreign teacher in Phnom Penh, I've got it pegged that there was a PET water bottle in your 'Teacher's Bag' when you last took a class. Those of us who are teaching English in Cambodia know about the importance of drinking plenty of water when working in a stifling Khmer classroom. As educated people, we should also know that PET bottles are harmful to the environment and potentially harmful to our immediate health. How many people handled your plastic water bottle before you? Did every person in the supply chain wash their hands before handling the bottle that you're now drinking from?
I'm living proof that removing PET bottles from everyday life is achievable and painless. Buy a reusable water bottle, take it with you wherever you go and top it up when the opportunity presents itself. Investing in a reusable water bottle will: 1. reduce your carbon footprint; 2. save money because you're not buying drinks and 3. reduce the likelihood that you'll pick up a lurgy of some kind due to poor hygiene practices by other people.
Paper
Everyone loves trees, but we keep chopping them down to produce paper and other products. Chopping down trees is detrimental to the environment on a several fronts. Trees store toxic carbon. This is good news. When a tree is chopped down, the toxic carbon stored is released back into the atmosphere. This is terrible news. On top of this environmental merry-go-round where carbon is stored and then released again, deforestation typically includes a burning process and extra toxic gas finds its way into the atmosphere. This is also bad news. Adding insult to injury, land that was previously a forest is often used for agricultural pursuits, which account for 20% (+/-) of carbon emissions worldwide. This is horrible news. No matter how you look at it, chopping down trees for paper and other commodities beckons an environmental catastrophe.
Through my work teaching English in Cambodia, I'm making a concerted effort to minimise my use of paper – and you should too! I can honestly say that I don't know any teachers in Cambodia or elsewhere who have a 'moonlight' gig chopping down trees. Having said this, most teachers may as well have a side-job as a tree-lopper because they're 'big-time' consumers of an end product – paper. Whether you physically chop down trees or use copious amounts of paper, the poor environmental outcome is the same.
From my observations, here's a random selection of ways that teachers squander paper day-in and day-out: single-use flashcards; back up tasks printed in huge quantities; a box of tissues on the teacher's desk; newspapers, magazines and circulars that are read and discarded or just discarded; paper planes in the staffroom (it does happen); paper cups in the staffroom; sticky notes; memorandum after memorandum; paper hats at staff birthday parties; and the list goes on and on.
Changing the mindset when it comes to excessive paper usage by teachers won't happen overnight, but every journey starts with that all-important first step. I've taken that first step and I'd like to see others in the teaching profession doing their bit. Here are some strategies that I'm following right now, directed at minimising paper usage and reducing my carbon footprint.
Only buy recycled paper

Use both sides of the page

Say no to paper (and plastic) straws

Unsubscribe from junk mail

Communicate by email

Avoid printing emails

All notes and reminders are electronic

Use my own 'clay' beer coaster

Be creative when wrapping gifts

Use a 'bum gun' rather than toilet paper

Use a handkerchief rather than tissues
Fossil fuels
The reliance on fossil fuel, petroleum and alike, is not unique to Cambodia. It's a worldwide issue. Moreover, plenty of countries rely on fossil fuel (per capita) to a greater extent than Cambodia. I'm focused on the 'here and now'. While I'm teaching English in Cambodia, reducing my use of fossil fuel as I go about everyday life in Phnom Penh – and encouraging others to do the same – is where I can make a positive contribution. Heaven knows there's a lot of work to be done!
In 2016, only 16% of the population of Cambodia had access to clean fuels (and technologies) for cooking. Statistics suggest that in 2020, more than 50% of electricity on the grid in Cambodia was generated by coal and oil. While neighbouring countries have set targets for moving from majority fossil fuel to majority clean energy, Cambodia hasn't. Putting aside for a moment the harmful impact that fossil fuel use has on the environment in Cambodia, the way petrol, coal and gas are manually handled by many local people (note the image above) often leads to injury and death. It's a topic for another day!
Even the most avid global warming deniers accept there's a connection between fossil fuel and carbon emissions. The deniers don't see the connection as being a problem for humanity. On this point, I have two questions for you. Firstly, do you believe there's a connection between fossil fuels and carbon emissions? Secondly, do you believe that carbon emissions are the root cause of global warming? If your answer was 'no' to one or both questions, it's fair to say that we're on different sides of the barricade. If your answer to both questions is 'yes', then surely, as an educator and role model, you must take tangible action to minimise your use of fossil fuels. How?
Teaching English in Cambodia comes with a range of benefits including – in many instances – the opportunity to walk or ride a bicycle to school. This is possible in Phnom Penh because it's a relatively small city. In regional and rural areas of Cambodia, teaching jobs often come with accommodation within walking distance of the school. By choosing to walk rather than automatically jumping in a TUK TUK or on a motorbike, you're reducing your personal use of fossil fuel – it's that simple. Walking or riding a bicycle to get from Point A to Point B comes with a range of additional benefits including physical fitness, mental health and assimilation, to name only three.
Next, if you put your mind to it, your accommodation in Phnom Penh or elsewhere in Cambodia offers plenty of opportunities to reduce your fossil fuel footprint. Eat fresh fruit and vegetables. Choose not to burn coal when cooking. Thoroughly read the label before you buy a household product. Why? Cleaning agents, soap, insecticide and many other everyday household products contain petroleum derivatives – opt for a natural or 'green' alternative. Say no to chewing gum – the elastic properties in chewing gum come from petroleum derivatives. Move away from non-stick pots and pans – the non-stick part is made from petrochemicals. There's a lot that you can do in your household with minimum effort.
Conclusion
Science tells us that climate change is real and that we need to take action now to have any hope of turning things around. Those of us who are teaching English in Cambodia – and elsewhere – are well-placed to take immediate action in a range of areas directed at reducing our carbon footprint. Right now, I'm focused on plastic, paper and fossil fuel. I'm making subtle changes in my consumption habits including saying no to plastic bags, taking a reusable water bottle with me when I'm out and about, using a handkerchief rather than tissues, printing on both sides of a page and walking at every opportunity rather than jumping in a petrol-powered TUK TUK. I've even stopped chewing gum. What are you doing to reduce your carbon footprint?
About the writer: Peter Goudge is the Managing Director and founder of AVSE-TESOL in Vietnam and Cambodia. AVSE's core business is delivering Australian Government accredited TESOL training for aspiring English language teachers. AVSE-TESOL has training centres in Hanoi, Ho Chi Minh City and Phnom Penh. Vist the AVSE-TESOL website: www.avse.edu.vn
5 Reasons Why Teaching ESL in Cambodia is a Great Choice
Getting your ESL qualification and heading off around the world can be very exciting. One of the most fun activities is choosing your next destination. Teaching English in Cambodia is often overlooked, but it could actually be a really great option for you. Cambodia is found in the southeast of Asia on the Indochina Peninsula. Thailand sits on the Northwest and west of the country, Vietnam is over to the east and up in the northeast, you will find Laos. The coastline of Cambodia is on the Gulf of Thailand and is found in the southwest of the country.
Those who have already experience teaching English in Cambodia will attest to the fact that it offers a very laid-back way of life and comes with some delicious local cuisine. There are plenty of opportunities on offer as there is a high demand for teaching English in Cambodia, so finding work isn't difficult, and there are some really great reasons why it could be your next destination of choice.
1. It's Very Affordable
Comparatively, Cambodia has a really low cost of living. Most people spend the greatest amount of money on their homes. Renting and buying is an expensive business in most countries, but in Cambodia, you can find yourself paying as little as $170-$350 a month for your pad. You can easily eat out and spend just $3 on a meal, and the tuk-tuk ride to take you back to your house is less than a dollar. Most jobs teaching English and Cambodia are around 25 hours a week, some will be more, and some will be less, but if you are sensible with your money, you will easily be able to save around $600 a month after you've paid all your bills. This gives you a great cushion when it's time to move on and explore new areas that may not have such an affordable cost of living.
2. You Will Make a Difference
As soon as you arrive, you will be greeted by a warmth that oozes from all locals. They are welcoming and friendly to strangers, and they have an amazingly optimistic attitude. The country hasn't experienced the best history, and life has been tough over the years, but this does not stop the local people from wanting to make new friends and include you in their social world. Those teaching English in Cambodia will be making a huge difference in the lives of Cambodian adults and children alike. Having good English skills opens doors and gives them a chance to make something of their lives. They are enthusiastic learners and love to showcase their skills. This means that not only will you be a teacher in the classroom, but you may find yourself stopped on the street by a local wanting to practice their English conversation skills.
3. It's a Great Location
Not only is there plenty to explore within Cambodia it's a great place to springboard some fantastic weekend getaways. The fact that you can save so much money means you can easily afford to pop off and explore Vietnam, Thailand or Laos when you are not required to be in the classroom. It's a great way of seeing a lot of Asia. There's also a huge amount to learn about the local area, and it features a vast 400km2 UNESCO heritage site. Some of the history certainly isn't pretty, with war featuring heavily, but Angkor is one of the most archaeologically important sites in the region and well worth a visit.
4. It's a New Destination for ESL Teachers
Teaching English in Cambodia hasn't really been a thing until recently. Other destinations were given a lot more credence, and teachers were never really encouraged to head to Cambodia. However, this is all changing, and it is proving to be a hugely popular destination with teachers heading off from all countries of the world. Heading to teach English in Cambodia now gives you a great opportunity to get in at the base level and really improve your career path. If you don't have any experience teaching in a classroom (except what you have learnt in the ESL course), this is a great place to start, as they often do not require their teachers to have experience. As well as offering plenty of paid teaching positions, Cambodia is crying out for volunteers on gap years, and this makes a great addition to a CV.
5. Simple Visa Process
Getting a Visa can be one of the most sold destroying processes you will ever experience. Lots of English teachers heading abroad struggle every time they want to work in a new country. However, Cambodia is different; it has one of the most relaxed Visa application arrangements in the world and getting yourself a work permit and long-term Visa is really easy. The other piece of good news is that the costs associated with getting a Visa for those teaching English in Cambodia are also cheap (around $50-$150). Remember that we said the locals are very friendly? This is also great when it comes to applying for a Visa because you can actually head there and secure work before getting a work permit, and your employer will be delighted to help sort the paperwork. Once you have a work permit, you can extend your Visa for up to a year if you want to.
So, there you have it, five great reasons why teaching English in Cambodia could be your next move. The other thing that's worth mentioning is that the official language spoken in Cambodia is Khmer, but it doesn't matter if you can't speak it. That said, it's always useful to try and learn some key phrases wherever you plan to head on your next ESL adventure. English proficiency is particularly low in Cambodia, which is why your work there would be so vital. Out of 112 countries worldwide, it ranks 97th, which is poor, so you can see why there is a distinct need for strong English teachers in Cambodia.
About the writer: Faye Walker taught English in Cambodia for 18 months after completing the Australian Government accredited TESOL programme in Phnom Penh in 2018. Faye is now teaching in Costa Rica. Faye's teach abroad adventure can be your also. Reach out to AVSE-TESOL today: www.avse.edu.vn