Teaching in Vietnam – it's 'PHO-nomenal'…
From the very beginning of this short piece, I want to confess to an abject failing on my part during the 15+ years that I've spent teaching English in Vietnam and running my business, AVSE-TESOL. Here it is! I didn't take to eating (or slurping) Pho until very recently. Putting together this article was the impetus for my change of heart. I suspect my dislike of Pho over the years has something to do with a medical condition called Misophonia. Folks with this condition have profound and adverse reactions to the sound of other people eating. I can feel my blood pressure rising at this moment just thinking about slurping, chewing and suchlike. While I've never been diagnosed with Misophonia, I am very familiar with the symptoms. The good news is that I found the perfect antidote, but more of that later.
Now that I've bared my soul to personal shortcomings when it comes to Pho consumption, let's turn our mind to the purpose behind this article. The Story of Pho! What's the origin of Pho? Why is Pho considered 'PHO-nomenal' by every Vietnamese person I've ever met, including my extended family and colleagues teaching English in Vietnam? Where will Pho be in 2040 – how 'Pho' will it go (sorry, I couldn't help myself)? We'll finish off this piece with the 'Ultimate Pho Recipe' for you to try at home.
Origin of pho
Before doing some background reading, I was under the impression that Pho dated back to when King Hung 1 was a mere twinkle in his mother's eye during the legendary Hong Bang period, centuries ago in Vietnamese history. No, this is not the case. Pho only dates back to the late 19th century. Gosh, what a surprise! In stark contrast, the famous Aussie Meat Pie dates back to 9500BC during the Neolithic Period. The Ancient Egyptians even ate a version of the Aussie Meat Pie, according to archaeologists.
Pho, as we know it today, gained popularity in the north of Vietnam in the mid-1880s. It brought together the key ingredients of Chinese and French cuisine at the time. Keep in mind that the Chinese have tried on a few occasions throughout history to occupy Vietnam. The French colonised pretty much the whole of Vietnam (and neighbouring Cambodia) for more than 100 years until the decisive battle at Dien Bien Phu in 1954 heralded the end of French occupation. The Chinese influence on Pho includes noodles, rice, vegetables and various spices; the French contribution was red meat.
Over time, Pho made its way from the north of Vietnam to the country's southernmost point in Ca Mau Province, located in the Mekong Delta. On its north to south journey and over time, the original version of Pho has evolved into a contemporary 'dish' available in restaurants of all sizes and traditional street food outlets the length and breadth of Vietnam. It's served up to visiting Kings, Queens, Presidents, Prime Ministers and even the occasional dictator. There's a terrific photo on the internet of Bill Clinton eating Pho at a restaurant in downtown Ho Chi Minh City during an official visit. Certainly, it's a staple food of most long-term expats. 
Why is pho considered to be 'PHO-nomenal'?
From what I've seen over the past 15+ years, Vietnamese people, foreigners I've met through my work teaching English in Vietnam and random expats, enjoy a decent bowl of Pho for the same reasons: 1. it's cheap; 2. it's quick, and 3. it's consistent with a balanced diet and healthy living.
There is no question – Pho is cheap. At a 'half-decent' inside restaurant, a bowl of Pho in Ho Chi Minh City will ordinarily cost no more than US $2.00. If you're happy to sit on a small plastic stool at a small plastic table (almost universally blue in colour for some unknown reason) and eat your Pho with shared chopsticks in a shared plastic bowl, then the price will be not much more than US $1.00. The good news is that the shared utensils and bowls are washed between customers, or at least they should be. Vietnamese customers don't seem to care. They simply take a napkin, give the utensils a quick wipe, and then 'hoe into' their meal. Expats teaching English in Vietnam tend to a bit more discerning. I've seen expats bring their own bowl and utensils to an outside Pho stall – to the amusement of locals – or ask to rinse the utensils that are provided with boiling water. It's probably wise, but I can't imagine that I'd be bothered going to so much trouble.
Anecdotally (with my Vietnamese wife as the source), it will take an average person no more than 5 minutes to pull together a bowl of Pho, assuming the ingredients have been prepared beforehand, chopped, diced, boiled and suchlike. In a restaurant, it typically takes less than 5 minutes.
An average-sized bowl of Pho contains 350 to 400 calories, which equates to 20% of the recommended daily intake for an adult. Is Pho as healthy as people suggest? The answer is 'yes' and 'no'. 'Yes' – if you go light on the noodles and salt, heavy on vegetables and opt for lean meat. 'No', if the bowl of Pho is dominated by noodles, subject to a heavy hand with the salt and has undesirable additives for colour or flavour. I once saw a foreign chap add sugar that he brought with him, to a bowl of Pho at a street stall, but I don't think this practice is usual.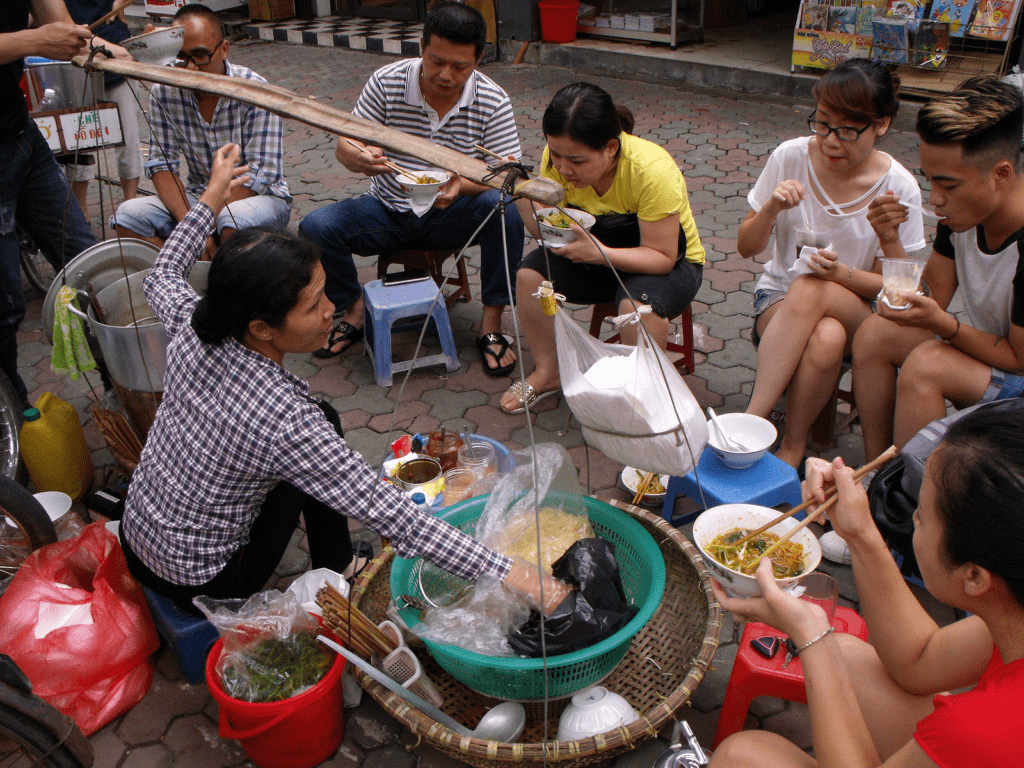 Where will pho be in 2040?
When it comes to history and fast food, Pho clearly does not match the 'reverence' of the Aussie Meat Pie, which we know dates back to pre-biblical times. Moreover, from my observations, Vietnamese folks' love for a bowl Pho is yet to match the passion that the French have for a plate of snails. I have always found it to be one of life's ultimate contradictions that the French version of 'fast food' is the 'snail', but I digress.
While Pho has inroads to make, quite literally of biblical proportions, or perhaps I should say 'portions' given the context, make no mistake, it has 'rusted on' support. These days, those who love a good-sized bowl of Pho go well beyond local people, 'Viet Kieu', tourists, and expats teaching English in Vietnam. Business conglomerates – large multi-business and multi-national companies – are 'gobbling' up the 'Pho Market' in Vietnam and elsewhere. Pho 24 (Vietnamese owned) now has more than 50 Pho restaurants across Vietnam and abroad. Pho Hoa (2018 Top Global Franchise List – Entrepreneurs Magazine), 70+ locations, Pho Que (rather an unfortunate name) Huong is another North American Pho Business with a sizable international footprint.
So, where will Pho be in 2040? I expect it will be every bit as popular as it is now, but increasingly it will be consumed in fast food chains rather than at small food stalls found on the street. Just as the proliferation of large shopping malls spelt the end of 'mum and dad' grocery shops, it looks to me that the Pho Fast Food Franchises spell the end of the small, blue plastic stools and tables and the shared utensils that I referred to earlier.
The ultimate pho recipe
After an exhaustive search online, speaking with Pho connoisseurs, taking advice from friends and acquaintances in my 'teaching English in Vietnam' orbit and trying various concoctions in my own kitchen (while wearing earmuffs – note my earlier comment about an antidote to Misophonia), I'm confident that I've found the 'Ultimate Pho Recipe'. It belongs to a quirky Vietnamese / Canadian chap named Quang Tran. While I have never met or spoken with Mr Quang, his version of Pho scores 10/10 from me, which shouldn't be underestimated given my eating affliction, although ear muffs make a world of difference. My extended Vietnamese family – all life-long Pho eaters – also gave Quang's Pho recipe a perfect score. You will find Quang Tran's Pho recipe on his YouTube channel found here.
Summary
We've covered a lot of ground in this piece – we've ventured near and 'Pho' (again, I couldn't help myself). I've bared my soul about the sound of chewing and slurping. We've looked at the origin of Pho and noted that it only goes back 120 years or so. Surprising for sure! We've turned our mind to where Pho will be in 20 years from now, concluding that the blue plastic chairs and tables (and shared utensils) are under threat from business conglomerates. It has been determined that the 'Ultimate Pho Recipe' belongs to the Mr Quang Tran. This occurred after an extensive research and consultation process including, crawling the internet, and reaching out to expats who, like me, are teaching English in Vietnam. Arguably of most importance, it's been determined that ear muffs allow folks like me to enjoy a good bowl of Pho. This alone is news that's worthy of being spread 'Pho and wide'!
About the writer: Peter Goudge is the Managing Director (and owner) of AVSE-TESOL in Hanoi, Ho Chi Minh City, Phnom Penh and Online. Originally from Melbourne, Australia, Peter now calls Ho Chi Minh City home. For more than a decade, AVSE-TESOL has been providing aspiring ESL educators with the skills, knowledge and certification they need to land well-paid teaching jobs in Vietnam or Cambodia. Check out the AVSE website: www.avse.edu.vn
---
Vietnam – Country Profile…
Teaching English in Vietnam is something that you've always wanted to do and now the time has arrived where you can live that long-held dream. How lucky are you? Very lucky indeed!  Here's some background information that might be handy to know before you set foot on Vietnamese soil for the first time.
History
Tip: If history is a passion, there's a good chance you'll be impressed with the War Remnants (Vietnam War) Museum in Ho Chi Minh City. It's best to check the hours that it's open on the day you intend to visit, rather than just turning up.
Archaeological artifacts indicate that humans were living in northern Vietnam 500,000 years ago, but primitive agriculture didn't arrive until around 7,000 BC (+/-). It took a further 6,600 years (+/-) for the sophisticated Bronze Age 'Dong Son' culture, famed for its drums, to make an appearance.
The Chinese played a huge role in early Vietnamese history and it could be argued that in one way or another, they've continued to do so to this very day. The history books tell us that Vietnam has had more than its fair share of uprisings, rebellion, and occupation. From 1861 through to 1957 (apart from a relatively short period of Japanese occupation), Vietnam as we know it today was occupied by the French.
Shortly after the French decided that they'd had enough, Vietnam was split into two separate countries, North Vietnam and South Vietnam. War erupted between the north and the south and tragically millions of people died, including many civilians. The war in Vietnam came to an end on 30 April 1975 when the North Vietnamese Army overwhelmed the South with a massive offensive, peace was finally achieved and the country started on the path to reunification.
While the end of the war in 1975 brought a level of peace that Vietnam hadn't known for decades, it also heralded 11 plus years of economic and political isolation from the outside world, other than a few like-minded communist states. Food shortages were commonplace. Medical equipment was scarce. Medical treatment was primitive. Tragically, people died in high numbers. How many? Nobody knows.
What we see in Ho Chi Minh City, Hanoi and elsewhere in this wonderful country today, is a stark contrast to the reality of life in Vietnam just over 30 years ago. The transformation from a 'lost cause' to an economic powerhouse within three decades is miraculous. I'd like to think that those of us who chose to embark on a career teaching English in Vietnam during this period, played a part, no matter how small, in the transformation that has occurred.  
Geography
Tip: You'd be well-advised to take plenty of insect repellant on a trip to the Mekong Delta. There's no doubt in my mind that the nastiest mosquitos in the whole world live down that way.
Vietnam's total land area is 331,211 square kilometres. The country has land borders with Cambodia, Laos and China.  
Crudely, Vietnam can be divided into three distinct segments: 1. the highlands and Red River Delta in the north; 2. the central mountains and costal lowlands in the middle; and 3. the Mekong Delta in the south.  Interestingly, more than 10,000 square kilometres of the Mekong Delta is dedicated to rice farming, making the area one of the top rice-growing regions in the world. 
The coastline of Vietnam with its stunning beaches is surely one of the country's best kept secrets. Development has taken hold in coastal cities such as Nha Trang, Danang and Vung Tau, but there are still plenty of small fishing towns and hamlets on the coast that provide insight to the 'real' Vietnam. Certainly, Danang and Nha Trang are popular work and tourism destinations for folks teaching English in Vietnam. There are teaching jobs available on the coast, but competition is intense because of the lifestyle afforded by beachside living, especially in a country with a tropical climate. If beaches are your thing, don't let my 'competition' comment deter you. Who knows? You might be in the right place at the right time.
Population
Tip: With 97 plus million people living on a relatively small tract of land, in a developing country, it's no surprise that traffic congestion is a huge problem in cities and towns across Vietnam. When you need to be somewhere at a specified time, a teaching practice class for example, make sure you allow time for traffic-related delays.   
The population of Vietnam is expected to reach 97.3 million people in 2021, making it the fifteenth most populous country in the world. 'Kinh' is the largest ethnic group in Vietnam (85% plus of the total population) with the remaining 15% consisting of people from 53 distinct communities.  
With every year that goes by we are seeing more Vietnamese migrate from rural areas to larger cities, especially to Ho Chi Minh City and Hanoi. Anecdotally, the lack of employment opportunities for local people and access to services such as medical care and education (government schools and tertiary education institutions) are key push factors. Presently, around 40% of Vietnamese people live in urban areas, more than 9% in Ho Chi Minh City alone. While statistics show us that local people are gravitating to the cities, if it happens that you prefer a slower pace of life, you'll be pleased to know that there are still plenty of jobs teaching English in Vietnam in regional and rural areas.  
Interestingly, over the past 20 years the gap between the number of Vietnamese people who choose to move abroad, year-on-year, compared to the number of foreigners who take up residence, has narrowed considerably to the extent that it's negligible. While opportunities to pursue a career path teaching English in Vietnam is a pull factor for many foreigners, history tells us that when a booming economy is coupled with a 'Welcome Mat', people respond.
Religion
Tip: Vietnam is a hardline Communist State and officially atheist. For those reasons and others, folks who are teaching English in Vietnam and other visitors would be well-advised to avoid any discussion about religion.
As a Communist State, Vietnam is officially atheist, but the reality is that religion plays a part in the lives of many Vietnamese people. Buddhism, Taoism and Confucianism are the three most prominent religions in Vietnam. It's not uncommon for those three religions to be grouped together as one religion named 'Tam giao' (in Vietnamese) or 'the three teachings'.
Here's a question for you. What percentage of the Vietnamese population is Catholic? Have a guess if you're not sure and I'll provide an answer further on.
In the meantime, you might be surprised to learn, as I was, that:
there are more than 2,200 Catholic parishes the length and breadth of Vietnam that are collectively serviced by 2,600+ ordained priests; and
it took the French colonists 17 years (1863 to 1880) to build the Notre Dame Cathedral in the downtown area of Saigon (now Ho Chi Minh City). It remains a popular tourist destination to this day. 
So, getting back to my question, 'what percentage of the Vietnamese population is Catholic'? The answer is 7%. Did you know the answer? If not, was your guess close to the mark?
Climate
Tip: If possible, try and structure your routine so that you're under an air conditioner or a fan during the hottest part of the day as distinct from being out and about. Heat related illness including dehydration in Vietnam is commonplace.
Vietnam's climate varies from north to south, with the north having the conventional four seasons and the south having only two seasons, wet and dry. 
It is hot and wet in the northern part of the country including Hanoi during the summer months and cold and dry in the winter months. High humidity and sunlight are weather characteristics in the north of Vietnam regardless of the time of year. Although the north of the country is either very wet or very dry, the transition months provide for the conventional four seasons.
The weather in the south of Vietnam including Ho Chi Minh City is oppressively hot and humid 12 months of the year. During the wet season you can almost set your clock by the daily downpour of rain. The rain typically lasts for only an hour or so, but long enough to cause local flooding. Usually, the flood water disappears within 30 minutes or so after the rain stops. During the dry season, as the term suggests, it's highly likely you won't see a drop of rain in the south of Vietnam. No rain means lots of dust and poor air quality so it's a good idea to have a supply of surgical masks in your kit bag.
Regardless of whether you settle on teaching English in Vietnam up north or down south, I'd encourage you not to wear your work shoes to and from school during the wet season. Wear sandals or similar and carry your work shoes in a bag. Why? There's a high chance you'll have to wade through water to get from point A to point B at one time or another. Doing a teaching shift in saturated socks and shoes from trudging through 'pooey' water will be unpleasant for you – and your students.  
Cuisine
Tip: Occupiers rarely add value to a country, but give credit where it's due. The French baguettes that are found the length and breadth of Vietnam are simply divine. Throw in a bit of salad, meat of some sort and a drop of soya sauce and you've got a perfect Banh Mi for breakfast or lunch.
Putting aside some of the more exotic 'food items' that a lot Vietnamese people swear by, you'd have to say that the local cuisine is right up there with the healthiest on offer anywhere in the world. Pretty much every meal contains 'farm-fresh' ingredients including lean meat, vegetables, herbs and spices. Most Vietnamese dishes are testament that 'cheap' can also taste good. You'll have ample opportunity while teaching English in Vietnam to make up your own mind. Here's a random selection of everyday food items in Vietnam that you should try at least once:
Pho: a soup-like dish with rice-noodles, meat of one kind or another, bean sprouts, a sprinkling of various herbs and spices and a splash of lemon. Most Vietnamese will add soya sauce and chili to a bowl of Pho in quantities that would leave the average westerner aghast.
Bo Kho: a braised beef and vegetable stew with lemongrass and other spices. The stew is typically left to simmer for at least a couple of hours.  Make sure you've got a French baguette to scrape the bowl clean.
Bun Cha: is a pork-meatball (looks like a rissole) dish that's typically eaten with salad and bread. It's a popular 'street food', especially with young children in Hanoi and elsewhere in the north of Vietnam.
Banh Mi: is basically a French baguette that's stuffed with meat, salad and vegetables of your choosing. How quirky is this? The iconic Travel Book, Rough Guides, has ranked Banh Mi right up there with the World's best street foods.
Visa
Tip: If you go with the 'Visa on Arrival' option, make sure you've got the Approval Letter with you at your port of entry.
To enter Vietnam, you will need a passport that has at least 6 months remaining and a valid visa. These days most people who travel to Vietnam opt for a Tourist Visa on arrival, which can be finalised online from the comfort of your own living room in less than 10 minutes. You will find information about the Tourist Visa on arrival option here. 
Assuming you plan to complete the Australian Government accredited TESOL course at AVSE-TESOL in Hanoi or Ho Chi Minh City with the idea of teaching English in Vietnam after your training finishes, you'd be well-advised to opt for a 3-month Tourist Visa on arrival. Why? It will cover you for the period of the TESOL course, your initial employment and the transition to an employer sponsored visa. Keep in mind that Vietnam is one of those countries where the visa that's available to be purchased today, may not be available tomorrow. The same principle applies to eligibility requirements. Visas are a moving feast in Vietnam.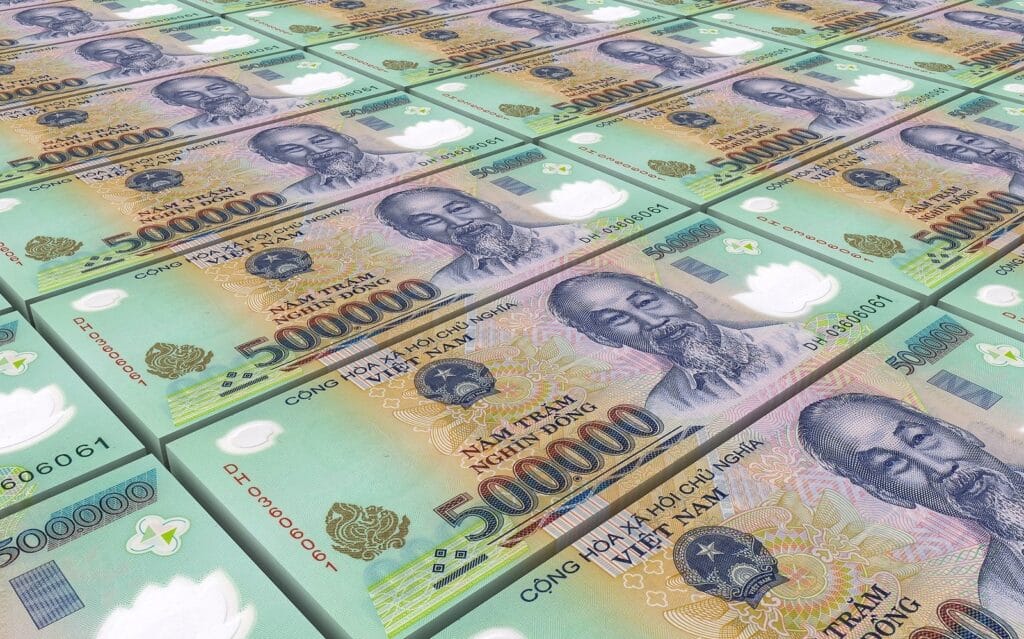 Currency
Tip: If you plan on teaching English in Vietnam after your TESOL course at AVSE-TESOL, your employer (a school) will almost certainly pay you once a month with a wad of Vietnam Dong notes. It's best to open a bank account at the earliest opportunity and deposit spare funds, rather than storing money under your bed or similar.
Vietnam's official currency is the Vietnam Dong (vnd). Yes, I agree, it's a funny name for a currency! Prices are typically quoted and advertised in Vietnam Dong. ATM machines only dispense Vietnam Dong.
Sending money out of Vietnam is complicated and the rules change without notice. Such is life in a Communist State. If you have bills to pay in your home-country, you may wish to seek advice from other expats on how to send money abroad. In stark contrast, sending money to Vietnam is a breeze with the assistance of entities like Wise, Western Union, MoneyGram and alike.
Summary
In this 'Country Profile' blog post I've provided a snapshot of Vietnam based on my own experience. I have touched on matters pertaining to history, population, cuisine and other areas that I thought would be useful for a 'rookie' to at least reflect upon in a quiet moment. If you take nothing else from this blog post, be careful with those nasty mosquitos in the Mekong Delta (Geography) and please, please, please do not store your hard-earned money from teaching English in Vietnam under your bed (Currency).
About the writer: Peter Goudge has been teaching English in Vietnam since 2006. Originally from Australia, Peter now calls Ho Chi Minh City home. Peter is the owner of AVSE-TESOL in Ho Chi Minh City, Hanoi, Phnom Penh and Online. AVSE's core business is delivering an Australian Government accredited TESOL programme for prospective ESL teachers. Check out the AVSE website: www.avse.edu.vn
---
'Grey Nomads' – teaching in Vietnam…
Here's a prediction based on phone calls and emails that I've received over the past few months.  I've got it pegged that when it's possible for people to travel freely again, we'll see Grey Nomads (50+ years of age), predominantly from Australia, the United Kingdom and the United States, teaching English in Vietnam in unprecedented numbers.  
Grey Nomad is an endearing phrase that's commonly used Australia. Over the past few years, the phrase has gained traction in Southeast Asia. In the context of teaching English in Vietnam, a Grey Nomad is a foreigner of a more mature age who has travelled to Hanoi, Ho Chi Minh City, or elsewhere in Vietnam to work as an English language teacher. Arguably, the most famous Grey Nomad of all time is Marco Polo. He travelled around Asia in the late 1300s and early 1400s. History tells us that Marco Polo took full advantage of the opportunities presented to him in Asia; it seems to me that the modern-day Grey Nomads are doing pretty much the same. 
Let's drill down a bit on these Grey Nomads. We know they're 50+ years of age, but what else do they have in common? What pathway do they typically follow from their former life to teaching abroad? Why is Vietnam a beacon for Grey Nomads? How are they received by the Vietnamese schools that employ them?
Pathway
The pathway that leads to teaching English in Vietnam for a good number of mature teachers is remarkably similar. Most are single people, professionally-minded, with a solid work history. They're seeking a positive experience with an element of adventure in retirement or following redundancy, divorce or another life-defining moment.
Almost to a person, Grey Nomads that I've encountered through my work teaching in Vietnam are well-informed. They've done the necessary research. Your average will Grey Nomad has it pegged that the number of English teaching jobs in Vietnam is greater than the number of suitably qualified people to fill them – many times over. They know it's not enough to be a native-English speaker who happens to be breathing and upright to call themselves an English language teacher. Most Grey Nomads have invested in quality English as a Second Language (ESL) teacher training that's government accredited and internationally recognised. The Australian Government accredited TESOL programme at AVSE-TESOL in Hanoi and Ho Chi Minh City is an excellent example of top-notch ESL teacher training. More 'mature heads' know that quality training provides the skills, knowledge and certification that are collectively pivotal to getting a decent job in the first place – and to do the job well. Grey Nomads are attuned to the idea that job training – teacher training in this instance – is not an area where people can scrimp.
Why is Vietnam a beacon?  
Typically, foreigners who are teaching English in Vietnam earn a decent salary; from my observations, the vast majority of Grey Nomads aren't motivated by how much they can earn. On a list of motivating factors, making money would come in around number nine for most 'Grey Nomads'. Not in any particular order – lifestyle, low cost of living, personal safety, ease of travel – within Vietnam and to neighbouring countries, diversity of experiences on offer, warm climate, decent beaches, and friendly local people – would all rate higher than making money. Most of the Grey Nomads who are teaching in Vietnam are happy if they can cover their everyday costs. I suspect this reflects their 'stage of life'. Grey Nomads tend to be people with a long work history. Some will have worked like a 'Trojan', perhaps even held two jobs at the same time, scrimped and saved, bought, and sold properties, raised children, experienced heartache and suchlike. They've done the hard yards for the benefit of themselves, the benefit of others and the benefit of the wider community. Now it's about 'me time'. In a nutshell, why is Vietnam a beacon? It has 'me time' written all over it.
How are Grey Nomads received by employers (schools)?
Earlier in this article, I inferred that the number of English teaching jobs in Vietnam is greater than the number of suitably qualified people to fill them – many times over.  This is the case now, and it has been for the 15 years that I've been living and working in Vietnam. Pretty much from the time Vietnam opened up after the devastating war years, the country has experienced economic growth that's envied around the world. This growth has led to an insatiable demand for English language skills – and qualified, foreign English teachers.
In a 'job-seekers market', schools welcome anyone they can get their hands-on, including Grey Nomads, who are qualified to teach English. Consequently, 'market forces 101' dictates that Grey Nomads are well-received by schools along with other qualified teachers. Having said this, if a School Principal can choose between Person A – quality TESOL certification, a wise head, even temperament, professionally minded, stable work history, and culturally empathetic – or Person B – dodgy 'TESOL certificate', youngster, a bit of an attitude, demanding, fussy, expects 'top dollar', almost certainly the decision making process will be short.
Summary
I expect we'll see an unprecedented number of Grey Nomads from all over the world taking on jobs teaching English in Vietnam once it's possible to travel without restrictions. Almost to a person, the coming wave of Grey Nomad teachers in Vietnam, like those who came before, will have done their 'homework', hold quality TESOL certification, and travel abroad for diverse reasons. The principal motivation for those Grey Nomads who take on jobs teaching English in Vietnam will most likely be 'me time'; it won't be money. One thing is certain, the next wave of Grey Nomad English teachers in Vietnam will be welcomed with open arms by schools nationwide because of who they are and what they bring to the important work of teaching people things.
About the writer: Peter Goudge is the owner of AVSE-TESOL in Australia and Southeast Asia. AVSE-TESOL offers an Australian Government accredited TESOL programme in Hanoi, Ho Chi Minh City, Phnom Penh and Online – a great pathway for teaching English in Vietnam, Cambodia, and other countries. Check out the AVSE website: www.avse.edu.vn
---