Notarise & legalize US documents (in the US) for teaching jobs in Cambodia
While it's fair to say that Cambodian officials aren't too bothered about teaching credentials from abroad being notarized and legalized for local purposes, it's wrong to assume that this is always the case. Unfortunately, it's not, and consequently, you'd be well-advised to have your important documents notarized and legalized before you leave the United States (US).
Sure, notarizing, and legalizing documents in the US for use in Cambodia involves time and money. However, the time commitment and financial outlay pale into insignificance compared to the fallout associated with having your key documents rejected in Cambodia. Your key documents for teaching jobs in Cambodia – quality TESOL or TEFL certification, a university or college degree, and a background check, are only useful if they're accepted by Cambodian authorities. In my opinion, it makes sense to get the tick of approval before you leave the US.
Let's drill down on how to have your documents for teaching jobs in Cambodia notarized and legalized before you leave home.
Option 1: Outsource
Assuming you have the original versions of your key documents (degree, diploma, background check, and the like), there are specialist companies across the US that will complete the entire process for you. You will find a selection of these companies by doing a simple Google search with keywords such as 'document authentication service USA'. It's worthwhile shopping around because fees and timeframes vary markedly. There are obvious pros and cons with outsourcing the notarizing and legalizing of your documents. You'll save time and there's a lot to be said for letting the 'experts do it'. On the other hand, your key documents for teaching jobs in Cambodia will be in the hands of a third-party, which comes with risk.
Option 2: Do it yourself
Step 1: Gather your documents
You'll save a lot of time (and money) if you have your key documents at hand, but let's assume the worst-case scenario. For whatever reason, you don't have any of your key documents, but you want to turn this around and navigate the notarizing and legalizing processes yourself. Here's what you need to do:
Academic: Contact the institution that issued your degree, diploma, or certificate and ask for a replacement document that's the same as the original – sealed, stamped, and the like. Almost certainly, you'll incur a fee. The institution that initially issued your degree, diploma, or certificate can also provide information on what's involved with notarizing the document – at the 'institution' level.
Police (Background check): Contact the FBI Office closest to where you live and ask about the process to obtain a background check. If you're asked why you need a background check, tell them straight – you'll be applying for teaching jobs in Cambodia. While Cambodian officials have been known to accept State background checks, you are strongly advised to obtain a background check from the FBI, averting a problem in the future. Unlike your academic documents, an FBI background check does not need to be notarized at the local level.
Step 2: Contact the State Authentication Office
Once you have gathered all your documents, you can move to Step two. Authentication procedures vary from state to state. You are strongly encouraged to contact your respective state's authentication office for more information on what needs to be done with each of your key documents. You'll find the contact details for the proper authority in your state via the following link: https://www.hcch.net/en/states/authorities/details3/?aid=353
Step 3: Obtain the Signature and Seal of the 'State' Secretary of State (State Authentication Office)
This step typically involves your State Authentication Office signing and sealing your documents. "What for"? I hear you ask. It's about 'checks and balances'. The folks at the state level need to confirm that whoever notarized your documents at the local level (Step one) is authorized to complete the task.
Step three is where the notarizing and legalizing process can get 'interesting' because of the Hague Convention. In short, if you plan to use your documents for employment (or other purposes) in a country that's a signatory to the Hague Convention, theoretically, you're 'done and dusted' after finialising Step three. Unfortunately, Cambodia isn't a signatory to the Hague Convention, so you have a couple more hoops to jump through.
Step 4: Obtain U.S. Department of State (Federal) authentication
While it's highly likely that the government officials in Step three will forward your documents to the Department of State (Federal) for the next layer of authentication (an Apostille), this isn't always the case. You might have to take on the task yourself. If so, contact the Department of State (Federal) for guidance via the 'free-call' number noted below.
Department of State (Document Authentication Office)
518 23rd ST. N.W., SA-1, Columbia Plaza
Washington, D.C. USA 20520
Tel: (202) 647-5002 or 1-800-688-9889
Step 5: Obtain 'legalization' from the Cambodian Embassy
Once your key documents have passed through steps one to four, they need to make their way to the Cambodian Embassy in Washington for 'legalization'. Give the Cambodian Embassy a call, so you know exactly what they expect you to do. Check out the following link: https://www.embassyofcambodiadc.org/
Summary
When it comes to notarizing and legalizing US documents (in the US) for use in Cambodia, you have two options: 1. outsource the task in its entirety, or 2. do it yourself. Both options come with pluses and minuses. Cost, available time, security, and the like will no doubt be pivotal in the decision-making process. Regardless, of whether you outsource notarizing and legalizing documents for use in Cambodia or complete the task yourself, the goal is the same. It's about having your documents in order for teaching jobs in Cambodia and presenting yourself in the best possible light to potential employers.
About the writer: Peter Goudge is the Managing Director (and owner) of Australian Vocational Skills and Education (AVSE-TESOL) in Phnom Penh, Hanoi, and Ho Chi Minh City. Check out the AVSE-TESOL website: www.avse.edu.vn
---
Decent money, adventure & lifestyle…
One of the key benefits of teaching jobs in Cambodia is the free time you'll have to pursue social or recreational interests and to take in what this truly magnificent country has to offer. You might feel inclined to join a Khmer cooking class, practise yoga, sign-up at a gym or pursue a hobby that you've often thought about, but have never had the time (or money) to do.
Money
The majority of teaching work is in the central business district of Phnom Penh and neighbouring suburbs, during office hours, Monday to Friday. Typically, foreigners in teaching jobs in Cambodia work around 25 hours a week (100 hours a month) and earn a net monthly salary of approximately US $1,300.00. With the cost of living being low, most foreign teachers save around 50% of their net monthly income.
Adventure & lifestyle
There are many reasons why people put all their worldly possessions in a bag and leave their home to pursue teaching jobs in Cambodia. From my observations, there are a couple of common denominators; adventure and lifestyle. With free time and cash to spend, you can expect plenty of adventure and a great lifestyle in Cambodia.
During my free time in Cambodia, more specifically in Phnom Penh, I've tried my hand at a few pursuits, but it was old French buildings that captured my attention and interest. I know most people would find checking out old buildings incredibly dull, but it gets my blood pumping. If folks can go 'bird watching', I can go 'building watching'. When was it built? Who lived there? Who worked there? What became of the occupants? What's it being used for nowadays?
'Truth be told', throughout the years that I've pursuing teaching jobs in Cambodia and neighbouring countries, I haven't met one other person who shares my passion for old buildings. That's fine with me. Less crowded!
Here are some of my favourite old buildings in Phnom Penh.
Phnom Penh Post Office, Corner Streets 13 & 102, Phnom Penh, Cambodia
The Phnom Penh Post Office was designed and built by Daniel Fabre (1830-1902), a renowned French architect and town planner. The building was completed in 1895. It's a stunning example of French colonial architecture – painted bright yellow, high arched doorways and windows, balustrades, pillars, columns – and most striking for me, an extraordinary red-tiled roof. In addition, the Phnom Penh Post Office has arguably the most impressive nineteenth-century clock tower you will see anywhere in the world.
In the late 1880s, Hyun de Verneville was appointed by the French Government to be the Senior Administrator of Cambodia, a French protectorate at the time. Apparently, Mr de Verneville went about his job with considerable enthusiasm. The Post Office building was part of his grand plan to turn Phnom Penh into a modern city, the hub of French administration in the region.
Here's a 'Phnom Penh Post Office' side story. When I last visited the Post Office in early 2020, I struck up a conversation with a young, French couple named Laurent and Isabel; they were both pursing Science-related teaching jobs in Cambodia. We ended up going for coffee in the Riverside area. I was astonished to learn that neither Lauarent or Isabel, depite being French citizens, were aware that the Post Office (and the Central Market) in Phnom Penh were designed and built by French people. Note my earlier comment about not having met one other person who shares my passion for old buildings.
Central Market, Corner of Streets 67 and 136, Phnom Penh, Cambodia
As the name suggests, Central Market is located in the centre of Phnom Penh, within easy walking distance of the Riverside precinct and other key attractions. It's a must-visit destination if you're into shopping, people watching or, like me, drooling over remarkable, old infrastructure. The superb 'art deco' shape and form of this building are what make it a sight – and a site – to behold. There's a huge dome (26 metres high) in the middle of the structure. Sizable, rectangular halls, four in total, protrude from the dome – north, south, east, and west. Each hall is home to a particular category of merchandise, making it relatively easy for shoppers to navigate the building and find what they're looking to buy. You could be excused for thinking that you're somewhere in North Africa or the Middle East rather than in Asia.
Following a three-year building project, Central Market was opened in 1937. At the time, it was the largest market in Southeast Asia. The idea and design were put forward by Mr Jean Desbois (1891-1971). He was the Chief Architect in Phnom Penh, working in the French Protectorate. The building works were supervised by another French architect named Mr Louis Chauchon (1875-1945).
Despite occupation by the French (twice), the Japanese, abdications, bombings, terrorist attacks, the scourge of the Khmer Rouge and a fragile economic and political landscape, Central Market is indicative of the resilience of the Khmer people. As a side point, it's also a great place to buy cheap, professional clothes, footwear and stationery supplies for teaching jobs in Cambodia.
The Old Chinese House, 45 Sisowath Quay, Phnom Penh, Cambodia
The Old Chinese House is located in the Riverside area of Phnom Penh, immediately north of the night market, near Street 84. It was built in 1904 by Mr Tan Bunpa (1871-1952), a businessman of Chinese origin who was involved in importing and exporting food and timber. Apparently, members of Mr Tan's family continued living in the Chinese House until 1975. They were forced to leave Phnom Penh under the Khmer Rouge, and sadly, were never seen again.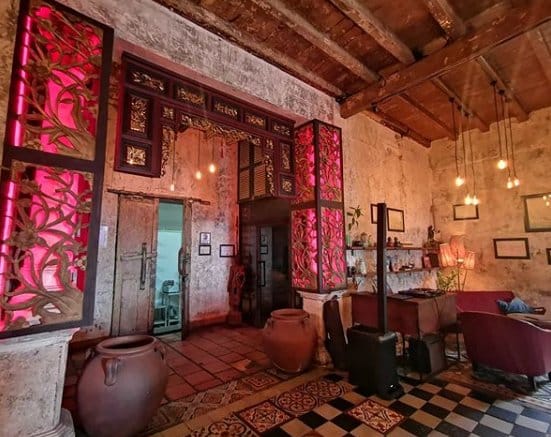 What I like most about the Chinese House is that it's one of only a handful of buildings in modern-day Phnom Penh – that's more than a century old – but is still pretty much in its original condition. Three smaller buildings have been added to the site over the years without diminishing the integrity of the original dwelling. During the past decade, the interior of the Chinese House has been carefully and expertly restored, with parts of the natural decay that you'd expect in a building that's more than 100 years old being incorporated into the refurbishment. The exposed beams, brickwork and plaster from the era are striking. If you have an hour or two to spare in Phnom Penh, you really should visit this absolute gem.
Hotel Le Royal, 92 Rukhak Vithei Street, Phnom Penh, Cambodia
This place is special! Jacqueline Kennedy (wife of President John F Kennedy), Charlie Chaplin and other famous people have stayed in the Hotel Le Royal. It dates back to 1929. With a grand façade and refined interior, the Hotel Le Royal oozes influence and wealth, which typified the life of the average French colonist during the 'protectorate' years.
The Hotel Le Royal was purchased by the Raffles Hotels and Resorts Group in 1995. After two years of painstaking refurbishment, the hotel recommenced trading in 1997 under the name Raffles Le Royal Hotel. While the building is simply stunning and well worth a quick look, unless you're a king, queen or someone of that stature, you may well struggle to pay the nightly tariff.
Summary
Based on my personal experience, teaching jobs in Cambodia come with the opportunity to live life to the full while earning a decent salary. Regardless of whether you live in Phnom Penh or elsewhere in Cambodia, there's a good chance that you'll find yourself stumbling across examples of classic, colonial architecture. If it happens that you don't share my passion for old buildings, no problem, there are plenty of other things to see and do in this truly magnificent country. Enjoy! Live the dream that teaching English in Cambodia affords.
About the writer: Peter Goudge is the owner of Australian Vocational Skills and Education (AVSE-TESOL). Peter's company delivers an Australian Government accredited TESOL training programme in Phnom Penh, Hanoi, Ho Chi Minh City and Online. Quality TESOL certification is the minimum requirement for teaching jobs in Cambodia, Vietnam and elsewhere in Southeast Asia. Check out the AVSE website: www.avse.edu.vn
---