Teaching jobs in Cambodia – grab this opportunity…
If you're looking for an adventure, have advanced English language skills and either already hold, or are willing to invest in quality TESOL training, you'll be pleased to know there is a multitude of paid teaching jobs in Cambodia for people just like you. From an Asian backwater, with a war-torn past, Cambodia is now booming.
Demand
With an economy that is growing at a rate most developed countries can only dream about, coupled with 60% of the population being under 30 years of age, there is an insatiable thirst among Cambodian people to acquire English language skills. This directly translates into well-paid teaching jobs in Cambodia for people who hold the right qualifications (see below), are adaptable and up for the challenge.
Sure, you'll be taking a risk loading-up your backpack and jumping on a plane because somebody wrote in a blog there's an abundance of teaching jobs in Cambodia. It might be comforting to know that many people have gone down this path before you and have lived to talk about their adventure. These days Phnom Penh, the capital of Cambodia, is full of foreigners pursuing teaching jobs and having walked in your shoes they're more than happy to point you in the right direction.
Starting your search for teaching jobs in Cambodia while still in your home country can't hurt, but the reality is that schools rarely engage foreign teachers 'sight unseen'. Typically, employers (schools) want to see you 'in the flesh' and will ask you to do a 'demo' class before offering you a contract. This isn't a reason to balk! With so many opportunities available, if one school doesn't work out, there are plenty of others that will roll out the 'Red Carpet'.
Network
Most teaching jobs in Cambodia are filled via someone's network. Talk to as many people as you can – TESOL classmates, friends, neighbours – and knock on a few doors. With this kind of strategy, you'll have more employment offers than you'll know what to do with. Once you have an employment offer that includes conditions that will meet your needs, it would be wise to have someone who knows about Cambodian contracts to read over the 'small print'.
Contracts
When flicking through the employment contract in front of you, no doubt you'll hone in on the provisions that cover the pay rate and work hours – I get it. Money and hours, however, are only part of the deal. There will be other components in the contract that are equally important. Does the contract include an Exit Clause? Will the employer sponsor a Work Permit and related visa? What are the taxation arrangements? Is there anything in the contract related to disciplinary action, in the event that you upset the boss? Is there provision for overtime payments. Is 'health cover' included in the deal. Will you be required to participate in school related activities that are unpaid, for example, supervising weekend sport and parent-teacher interviews? 
Typically, teaching jobs in Cambodia allow foreign English language teachers to earn around US $1300.00 (net) for working 80 to 100 hours per month. Obviously the salary depends on where the teacher works – rural, regional, metropolitan – the number of hours, the availability of free housing, free utilities and suchlike. Regardless, with the relatively low cost of living in Cambodia, foreign teachers can realistically save (after meeting all expenses) more than half of their salary each month, working sensible hours and without scrimping. You'd surely agree that there are few people in western countries who can save this kind of money, working double the hours.
No degree – no problem
You may be interested to know that a college or university degree is not a prerequisite for: 1. teaching jobs in Cambodia; and 2. a teaching related work permit and visa. If it happens that you don't hold a university degree, but are keen to teach English abroad, it would certainly be worth your time to check out what Cambodia has to offer. Holding a university degree will open more doors, corporate teaching jobs for example, but the pay difference between those without a degree and those with a degree is negligible.
While employers (schools) are not particularly fussed about whether a prospective teacher holds a degree, they are fussed about quality TESOL, TEFL or CELTA certification. The TESOL course in Phnom Penh offered by AVSE is perfect. How is it perfect? It's Australian Government accredited and therefore, genuinely internationally recognised. 
Conclusion
So, what's the upshot here? There are plenty of teaching jobs in Cambodia for folks who possess decent English language skills, quality TESOL certification and an adventurous spirit. When you find your ideal teaching job, make sure you conduct a thorough due diligence process so there are no surprises. Cambodia is a brilliant place to live and work as an English language teacher. Certainly, teaching English in Cambodia will allow you to earn a decent salary while leading an expat lifestyle. You'll be living the dream.
About the writer: Peter Goudge has been living and working in Southeast Asia, specifically in Cambodia and Vietnam, since 2006. He is the Managing Director (and owner) of Australian Vocational Skills and Education (AVSE-TESOL). AVSE-TESOL offers an Australian Government accredited TESOL training programme in Cambodia (Phnom Penh) and Vietnam (Hanoi and Ho Chi Minh City). Check out the AVSE-TESOL website: www.avse.edu.vn
---
Decent money, adventure & lifestyle…
One of the key benefits of teaching jobs in Cambodia is the free time you'll have to pursue social or recreational interests and to take in what this truly magnificent country has to offer. You might feel inclined to join a Khmer cooking class, practise yoga, sign-up at a gym or pursue a hobby that you've often thought about but have never had the time (or money) to do.
Money
The majority of teaching work is in the central business district of Phnom Penh and neighbouring suburbs, during office hours, Monday to Friday. Typically, foreigners in teaching jobs in Cambodia work around 25 hours a week (100 hours a month) and earn a net monthly salary of approximately US $1,300.00. With the cost of living being low, most foreign teachers save around 50% of their net monthly income.
Adventure & lifestyle
There are many reasons why people put all their worldly possessions in a bag and leave their home to pursue teaching jobs in Cambodia. From my observations, there are a couple of common denominators; adventure and lifestyle. With free time and cash to spend, you can expect plenty of adventure and a great lifestyle in Cambodia.
During my free time in Cambodia, more specifically in Phnom Penh, I've tried my hand at a few pursuits, but it was old French buildings that captured my attention and interest. I know most people would find checking out old buildings incredibly dull, but it gets my blood pumping. If folks can go 'bird watching', I can go 'building watching'. When was it built? Who lived there? Who worked there? What became of the occupants? What's it being used for nowadays?
'Truth be told', throughout the years that I've pursuing teaching jobs in Cambodia and neighbouring countries, I haven't met one other person who shares my passion for old buildings. That's fine with me. Less crowded!
Here are some of my favourite old buildings in Phnom Penh.
Phnom Penh Post Office, Corner Streets 13 & 102, Phnom Penh, Cambodia
The Phnom Penh Post Office was designed and built by Daniel Fabre (1830-1902), a renowned French architect and town planner. The building was completed in 1895. It's a stunning example of French colonial architecture – painted bright yellow, high arched doorways and windows, balustrades, pillars, columns – and most striking for me, an extraordinary red-tiled roof. In addition, the Phnom Penh Post Office has arguably the most impressive nineteenth-century clock tower you will see anywhere in the world.
In the late 1880s, Hyun de Verneville was appointed by the French Government to be the Senior Administrator of Cambodia, a French protectorate at the time. By all accounts, Hyun de Verneville went about his job running the colony with considerable enthusiasm. The Post Office building was part of his grand plan to turn Phnom Penh into a modern city, the hub of French administration in the region.
Here's a 'Phnom Penh Post Office' side story. When I last visited the Post Office in early 2020, I struck up a conversation with a young, French couple named Laurent and Isabel; they were both pursing Science-related teaching jobs in Cambodia. We ended up going for coffee in the Riverside area. I was astonished to learn that neither Lauarent or Isabel, depite being French citizens, were aware that the Post Office (and the Central Market) in Phnom Penh were designed and built by French people. Note my earlier comment about not having met one other person who shares my passion for old buildings.
Central Market, Corner of Streets 67 and 136, Phnom Penh, Cambodia
As the name suggests, Central Market is located in the centre of Phnom Penh, within easy walking distance of the Riverside precinct and other key attractions. It's a must-visit destination if you're into shopping, people watching or, like me, drooling over remarkable, old infrastructure. The superb 'art deco' shape and form of this building are what make it a sight – and a site – to behold. There's a huge dome (26 metres high) in the middle of the structure. Sizable, rectangular halls, four in total, protrude from the dome – north, south, east, and west. Each hall is home to a particular category of merchandise, making it relatively easy for shoppers to navigate the building and find what they're looking to buy. You could be excused for thinking that you're somewhere in North Africa or the Middle East rather than in Asia.
Following a three-year building project, Central Market was officially opened in 1937. At the time, it was apparently the largest market in Southeast Asia. The original idea and design were put forward by Mr Jean Desbois (1891-1971). He was the Chief Architect in Phnom Penh, working in the French Protectorate. The building works were supervised by another French architect named Mr Louis Chauchon (1875-1945).
Despite occupation by the French (twice), the Japanese, abdications, bombings, terrorist attacks, the scourge of the Khmer Rouge and a fragile economic and political landscape, Central Market is indicative of the resilience of the Khmer people. As a side point, it's also a great place to buy cheap, professional clothes, footwear and stationery supplies for teachig jobs in Cambodia.
The Old Chinese House, 45 Sisowath Quay, Phnom Penh, Cambodia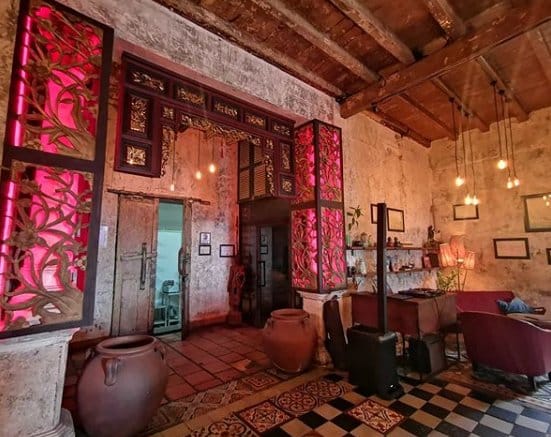 The Old Chinese House is located in the Riverside area of Phnom Penh, immediately north of the night market, near Street 84. It was built in 1904 by Mr Tan Bunpa (1871-1952), a businessman of Chinese origin who was involved in importing and exporting food and timber. Apparently, members of Mr Tan's family continued living in the Chinese House until 1975, when they were forced to leave Phnom Penh under the Khmer Rouge and sadly were never heard from again.
What I like most about the Chinese House is that it's one of only a handful of buildings in modern-day Phnom Penh – that's more than a century old – but is still pretty much in its original condition. Three smaller buildings have been added to the site over the years without diminishing the integrity of the original dwelling. During the past decade, the interior of the Chinese House has been carefully and expertly restored, with parts of the natural decay that you'd expect in a building that's more than 100 years old being incorporated into the refurbishment. The exposed beams, brickwork and plaster from the era are striking. If you have an hour or two to spare in Phnom Penh, you really should visit this absolute gem.
Hotel Le Royal, 92 Rukhak Vithei Street, Phnom Penh, Cambodia
This place is special! Jacqueline Kennedy (wife of President John F Kennedy), Charlie Chaplin and other famous people have stayed in the Hotel Le Royal. It dates back to 1929. With a grand façade and refined interior, the Hotel Le Royal oozes influence and wealth, which typified the life of the average French colonist during the 'protectorate' years. 
The Hotel Le Royal was purchased by the Raffles Hotels and Resorts Group in 1995. After two years of painstaking refurbishment, the hotel recommenced trading in 1997 under the name Raffles Le Royal Hotel. While the building is simply stunning and well worth a quick look, unless you're a king, queen or someone of that stature, you may well struggle to pay the nightly tariff.
Summary
Based on my personal experience, teaching jobs in Cambodia come with the opportunity to live life to the full while earning a decent salary. Regardless of whether you live in Phnom Penh or elsewhere in Cambodia, there's a good chance that you'll find yourself stumbling across examples of classic, colonial architecture. If it happens that you don't share my passion for old buildings, no problem, there are plenty of other things to see and do in this truly magnificent country. Enjoy! Live the dream that teaching English in Cambodia affords.
About the writer: Peter Goudge is the owner of Australian Vocational Skills and Education (AVSE-TESOL). Peter's company delivers an Australian Government accredited TESOL training programme in Phnom Penh, Hanoi, Ho Chi Minh City and Online. Quality TESOL certification is the minimum requirement for teaching jobs in Cambodia, Vietnam and elsewhere in Southeast Asia. Check out the AVSE website: www.avse.edu.vn
---